Today I introduce you the HTC M8!!!
FAKE!
Since few days, that different pictures about the HTC M8, or what people called HTC M8 is broadcasted on the web with some pictures to predict the new specs of the HTC announced for the 1st quarter of 2014. All that thanks to a single picture...
For me it's an amazing Fake which allows blogs to made articles and I will explain why just bellow.
All those reasons bind only myself. Let me know if I convince you on comments
Aspect
Inside the phone
What it looks like
The picture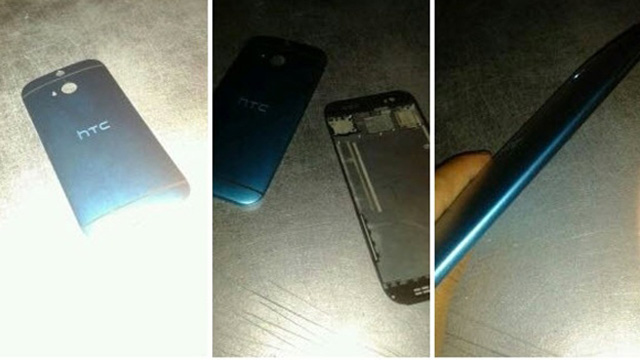 Here is a picture taken on the website: fredzone.org, I don't really know where the rumor started so I took it there.
1 - Aspect
We know that HTC made amazing phones, aspect is never neglected as we seen on HTC One X, S and One recently. However their logic is not to use the previous design of their smartphone for 2 years at 200%. We also known that HTC is not on its bests days. Sure the HTC One design could be something used again because we loved it. But for me this phone is only an HTC One. Have you really looked it more?
Have you an HTC One? I have and he is too much similar.
BLUE COLOR!!!
When have you seen a concept with a blue color? HTC launched the HTC One brand on different colors as the blue or red color. According to my opinion, this is an HTC One blue with a hall made with a drill on top part of the phone. I will back on this point later on the article.
We don't see Beats Audio, on each photo, have you seen where the Beats Audio should be? On the 1st part over the Flash, on the 2nd we can't see, and on the third... No comment.
Look on the picture beside. Do you see beats Audio on the Blue HTC One?
Yes more or less, but this is easy to remove it with a good angle on a picture.
We easily point on this picture that the HTC One blue hide more than others the Beats Audio entry.
2 - Inside the phone
I get huge doubts about that so I go to see a disassembly video about the HTC One, the M7. And I get this amazing video from
etradesupply
.
I get this picture from the video:
Okay we don't see lot of things, but before some modifications & overlapping of different moments we get that:
With our imafination we remove some plastics parts and we get... the HTC One (M7) inside...
3 - What it looks like
This lucky man get an HTC concept, M8 on his hands? Okay, he takes it on hands... he took some pictures, amazing... On a manufacturing post? Over a steel table? with lot of scratches everywhere for damage it properly when he leave it on...?
Are you serious?
If I get you an HTC M8, you really put it on a manufacturing table completely destroyed? NO, you take care of it! Here no way, the phone is disassembled on a place where it should never be for a concept phone...
I come back on the previous point about the hole made with a drill, for me the man wanted to customize its phone or something else, a sticker, but not a 3D camera.
4 - The picture
I will talk again about this lucky man :) He get the M8 and he sent us a picture... size: 620*350px...?
He get the phone on hands, he had time to get a better bicture no? Our actual phone get better quality than this one!

I would like to be denial!


So... According to you, HTC M8 or Fake?
Enjoy!